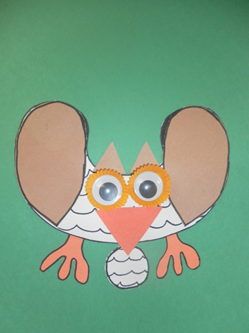 Baa Owl        
ب

  

بـ

وم

While working with little ones you will find that craft is a fun way to start learning the letters. This activity focuses on two main goals:
Identifying the letter formation through filling the shape of the letter
Beginning sounds through crafting different picture that starts with that letter
Gather your materials. You will need 3 pieces of construction paper (green, white and brown), small piece of orange paper, orange small cup cake paper, marker, googly eyes, scissors and glue. Cut out the shapes above (wings, beak, ears and feet).
Print out the letter Baa [click here] to download PDF file. Design wavy lines like as the picture shows.
Glue the googly eyes inside the cup cake paper. Glue the eyes as well as the triangle ears.
Glue the beak and the feet.
Add the wings and let dry.