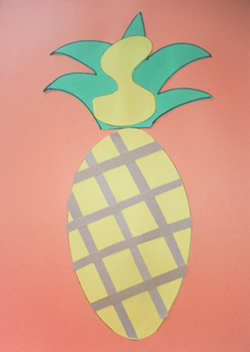 Alif Ananas          
أ 

 

أ

ناناس

While working with little ones you will find that craft is a fun way to start learning the letters. This activity focuses on two main goals:
Identifying the letter formation through filling the shape of the letter
Beginning sounds through crafting different picture that starts with that letter
Gather your materials. You will need 4 pieces of construction paper, marker, scissor and glue.
Print the letter Alif [click here] to download PDF file . Cut out the shapes above (leaves and stripes) in a green and brown construction paper.
Glue the Ananas on orange construction paper.
Add the "hamza"
Glue the stripes. Let dry.